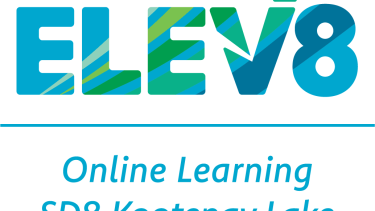 SD8 Now Designated as Provincial Online Learning School (POLS)
January 27, 2023
Elev8-DESK and Homelinks programs to be available province-wide
School District No. 8 (Kootenay Lake) is now a Provincial Online Learning School (POLS). This means that in in 2023-2024, the district will be able to continue welcoming online learners locally and from across B.C. to its Elev8-DESK and Elev8 Homelinks programs under the new POLS model. 
"I am very proud that our district has been designated a Provincial Online Learning School and that Elev8-DESK and Homelinks are recognized as valuable programs for K-12 online learners in our district and across the province," said Board of Education Chair Lenora Trenaman.
"Currently we have approximately 600 students enrolled in online learning in SD8, and with this new POLS designation, we could see that enrollment increase as students from other districts will have the opportunity to pursue their education either in Elev8-DESK or Homelinks in the next school year," said Superintendent Trish Smillie.
Students from SD8 will also be able to enroll in online learning programs at any designated POLS in B.C. with the assurance that no matter which POLS they attend, they will use a single provincial online learning platform (learning management system or LMS) and that each POLS will follow the same accountability and quality assurance process applicable to all provincial online learning schools.
B.C. Provincial online learning schools offer province-wide access and support services for learner needs. Students will be able to take online courses or programs no matter where they live, including:
Students in any school district or independent school
Students attending a non-independent First Nations school
Homeschool learners taking grade 10 to 12 online courses
The way students access online learning in SD8 won't change for 2022-2023 and Elev8-DESK continues to welcome new students.